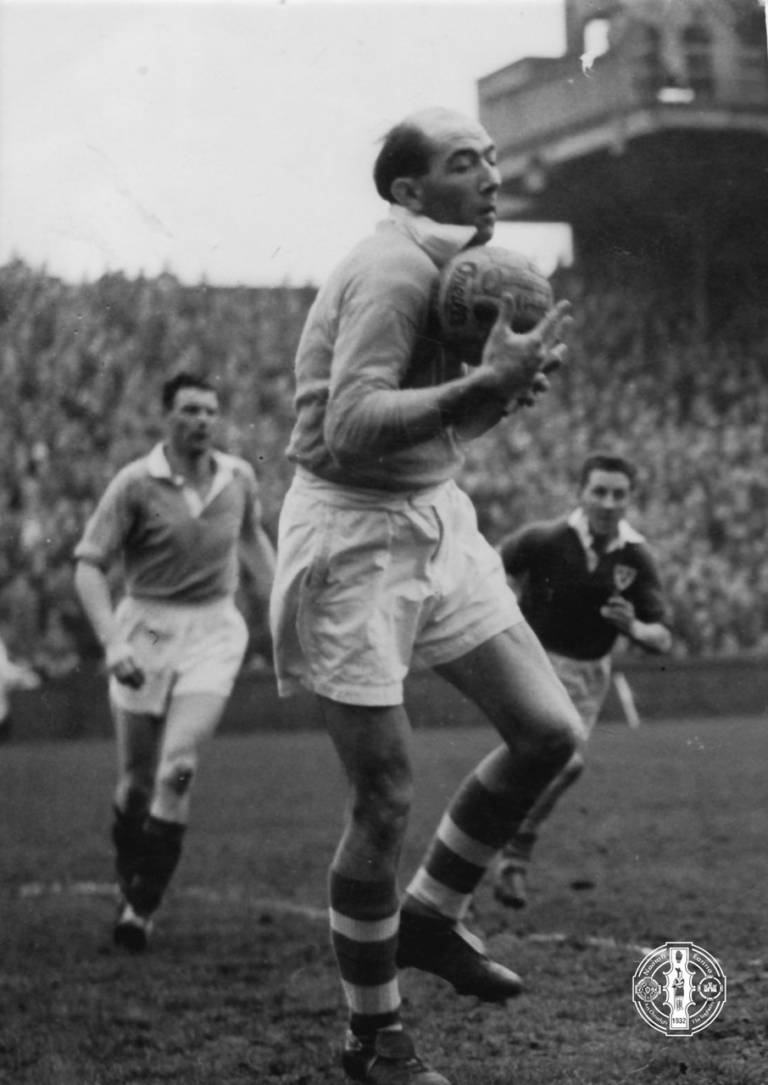 It was with great sadness that the Committee and members of Omagh St Enda's learned of the passing of club stalwart, Thady Turbett last night at the age of 92. The term "legend" is used quite liberally these days and invariably without much validation, however it is the only term that can be used to describe Thady. From his first championship medal for the club minors as a 16 year old in 1946 at corner forward to his last as a St Enda's Cup winner in 1964, Thady enjoyed an illustrious career to become Omagh, Tyrone and Ulster's most famous goalkeeper. In that time he amassed 6 Tyrone Senior championship medals (1948, 1952,1953, 1954, 1957 & 1963), 2 Tyrone Minor Championships (1946,1947), 2 Ulster Senior championships with Tyrone (1956. 1957), 3 Railway Cup medals (1956, 1960, 1963), 1 McKenna Cup medal (1957), 1 Gael Linn Cup medal, and 2 Lagan Cup medals. Additionally he represented Ireland twice in 1954 and 1958.
It was not only on the field of play that Thady stood out. His charm, wit and basic decency left all who met him in no doubt that they were in the presence of someone very special and he was one of the few people in this world who lit up a room by his mere presence. Although troubled by ill-health in recent times, the fortitude he showed throughout his playing career was still to the fore when he stepped up to the mark yet again only a few short weeks ago to assist in the opening of Caife 32 at O'Neills Healy Park. Surrounded by his family and friends, Thady produced one last brilliant performance and regaled those present with vivid tales of past glories in what was a deeply humbling and wonderful experience.
Although the Gaelic family of Omagh, Tyrone and Ulster has lost a wonderful friend, the greatest loss will be felt by his family. To his wife Teresa, sons, Thaddeus and Niall, daughters Patricia and Helen, grandchildren and entire family circle we extend our heartfelt and sincerest sympathies. Thady will make a final visit to Healy Park today on his way home at 3.00pm and it is asked that all those who wish to pay their respects are welcome to attend. The wake house is strictly private due to current restrictions and for family only.
Thady will leave his home at 3 Summerfield Court on Wednesday morning 7 July for Requiem Mass at Sacred Heart Church at 12.00 followed by interment in St Mary's Cemetery, Drumragh.
Sé ar laoch. Ni bheidh a leithead aris ann. I measc Laochra na n-Gael go raibh a anam dílis
By Gerard Fox
Mon 5th Jul