A Chairde gael,
As some of you will be aware, with the blessing of the Healy family, and after receiving unanimous support of those members in attendance at an Extraordinary General Meeting in February, I am pleased to formally announce a sponsorship deal for the naming rights of our club ground at Healy Park.
From this weekend, our main club ground will be known as 'O'Neills Healy Park'. I am also delighted to reassure you that the financial funding received as a consequence of this arrangement, will be ring-fenced for development within the club for you our members, and is not for week-to-week running costs of the club.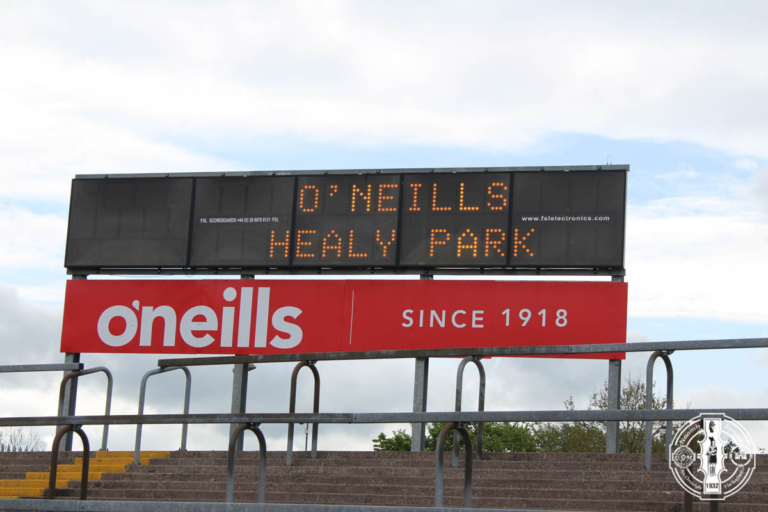 Healy Park, was purchased by Omagh St Enda's in 1962 for £1400, following the establishment of the 'field committee' in 1958 with the aim of developing a permanent home for the club.  Work began on a new pitch on the Gortin Road in 1968 and the ground was opened formally by Uachtarán Cumann Luthchleas Gael Alf Ó Muirí on 17 September 1972. It was later dedicated to the memory of the late Michael Healy in 1980. We remain to this day the beneficial owners of the ground, and are proud to also accommodate county, provincial and national fixtures. I wish to pay tribute to the men on the field committee and all of the members and gaels who raised the £30,000 to build the new field at the time. It is due to the dedication, generosity and commitment of these people that we have such a facility today. From now until at least the end of 2026 the stadium will be known as 'O'Neills Healy Park'.
Our corporate brand partners 'O'Neills International Sportswear' are synonymous with the GAA not only in Ireland but throughout our units overseas. In addition to being a respected international brand we believe that our continued partnership with them is supportive of one of the core aims of the association to endeavour to support Irish industry. O'Neills are a proud locally based company that has supported the local community of Strabane and the surrounding areas for many years and remain one of the most significant employers in Tyrone. It is our view, and that shared by O'Neills that this new arrangement will provide significant additional exposure of their brand given the iconic ground that 'O'Neill's Healy Park' has become over the last 49 years. We also look forward to celebrating 50 years of Healy Park next year, in conjunction with our major brand partners O'Neills.
I want to pay tribute to the Healy family for their unstinting support in this exciting new venture for our club. Finally, my sincere thanks to Kieran Kennedy, the long serving managing director of O'Neill's. Kieran has been a great friend to our club, to Tyrone GAA and to the association for many years. I am delighted to have been able to agree with him an arrangement which I have no doubt will be mutually beneficial to our club and to O'Neills.
I look forward to welcoming you all to 'O'Neills Healy Park' sooner rather than later.
Is mise le meas,
Conchúr MacSalaigh
Cathaoirleach
Naomh Éanna An Omaigh
By Gerard Fox
Wed 12th May