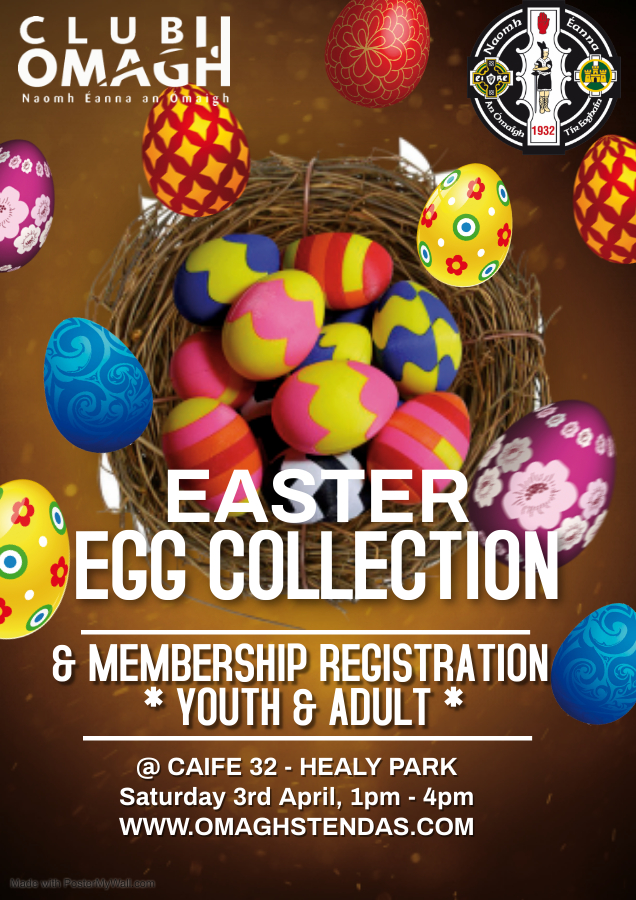 This coming Saturday, (3rd April), All children (Gaelic Start – U15) can collect their Omagh St. Enda's Easter Egg (courtesy of Club Omagh) at Caife 32, Healy Park between 1pm and 4pm. We will also be holding a Driveve-Thru Registration available between 1pm and 4pm for youth and adult members.
Youth Membership Forms can be downloaded
here:
Youth Registration Form Download
Adult Members Can download their forms here:
Adult Registration Form Download
FAMILY MEMBERSHIP SPECIAL OFFER FOR 2021
For any Club Member taking out Club Omagh Membership in 2021 ( New Or Existing Members ) , as well as the current benefits of …
1. Complimentary New Edition Club Omagh jacket for all Existing & New Full Members in 2021
2. Option to buy Second Jacket at Cost Price
3. Free admission to home Senior League Games
4. Free Spouse Membership
5. Use of the Club Gym outside of Team Times
6. Ability to book the Club Function Rooms ( after Lockdown ) for private Functions at No Charge
Membership will now include Registration for ALL Youth Members in that Family ie NO Fees to pay regardless of how many children you have !
Sign Up at
www.foireann.ie
or alternativly, download the Direct Debit Form below and drop it off at Saturdays Drive Through Registration.
By Gerard Fox
Tue 30th Mar