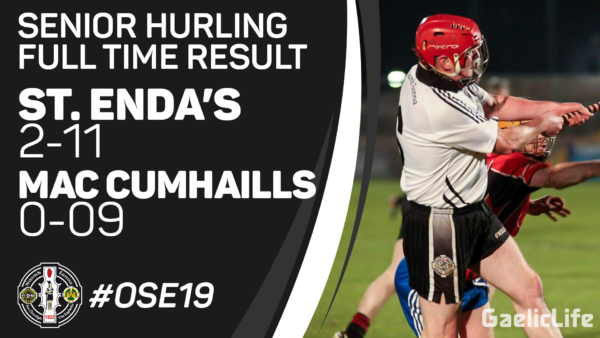 St. Patrick's Park, Omagh
Our Senior Hurlers hosted MacCumhaills who traveled from Ballybofey on Friday evening for Round 5 of the Donegal Hurling League.
The Omagh men started strong from the off, following on from their performance on Monday night in Carrickmore, with Ciaran Lagan and Tom McClements putting a few early scores on the board.
Omagh's lead could have been extended early when Oisin Sally put the ball in the back of the net, only for it to be ruled out as a square ball. A number of wides from the home side meant that the visitors kept within touching distance in the first half.
The visitors where able to keep their point tally ticking over and with some excellent defending and a save from Shaun McLaughlin, ensured that for the second game in a row they where able to keep a clean sheet for goals.
Omagh did manage to get the goal they where hunting for when just before halftime, Tom McClements made a magnificent run and managed to drive it past the MacCumhaills keeper. Ciaran Lagan and Tom McClements shared free taking duty and Omagh capitalised going into the break leading 1-08 to 0-05.
The second half became a much more heated affair with both sides fighting for each ball, sometimes boiling over. Omagh where trying to secure a much needed 2 points, while MacCumhaills knowing that a few early scores in the second half would put them right back into the game.
Omaghs defence worked extremely well together again, keeping the Donegal side at distance, any balls dropping into the danger zone where quickly mopped up and turned over to a quick attack. The score of the evening had to be that of Aidan O'Neill, who received the ball from a MacCumhaills attack which was overturned, under pressure and over the shoulder from 45/50 yards put it between the sticks with pinpoint accuracy.
Excellent work from Fergal McDonnell turning the ball over in the MacCumhaills 20 meter line allowed Paul McKernaghan to help extend the lead.
Omagh managed to put the game to bed when McKernaghan found the back of the net in the later stages of the game. In doing so, ensured that St. Enda's secured 2 much needed points in the Donegal League.
St. Enda's will travel to Letterkenny next Friday evening for their next fixture in the league.
Full Time
Omagh St. Enda's 2-11
MacCumhaills 0-09
By Kristina
Sat 4th May