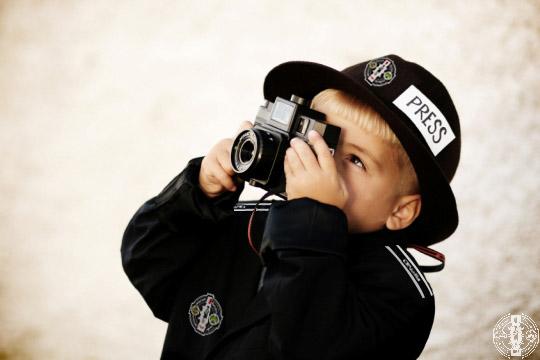 Scor Take the Titles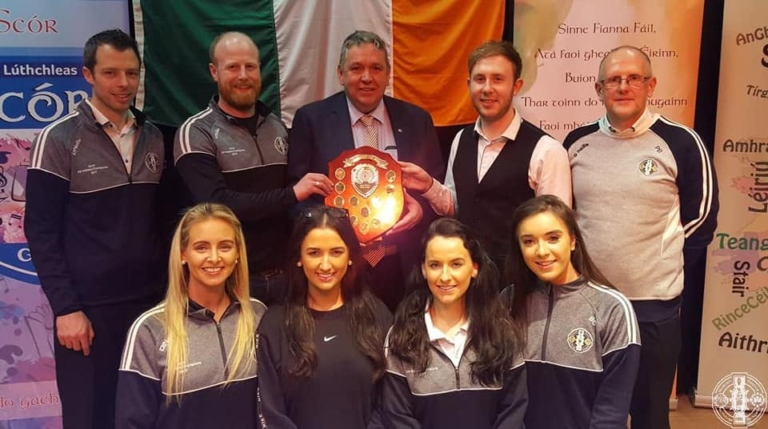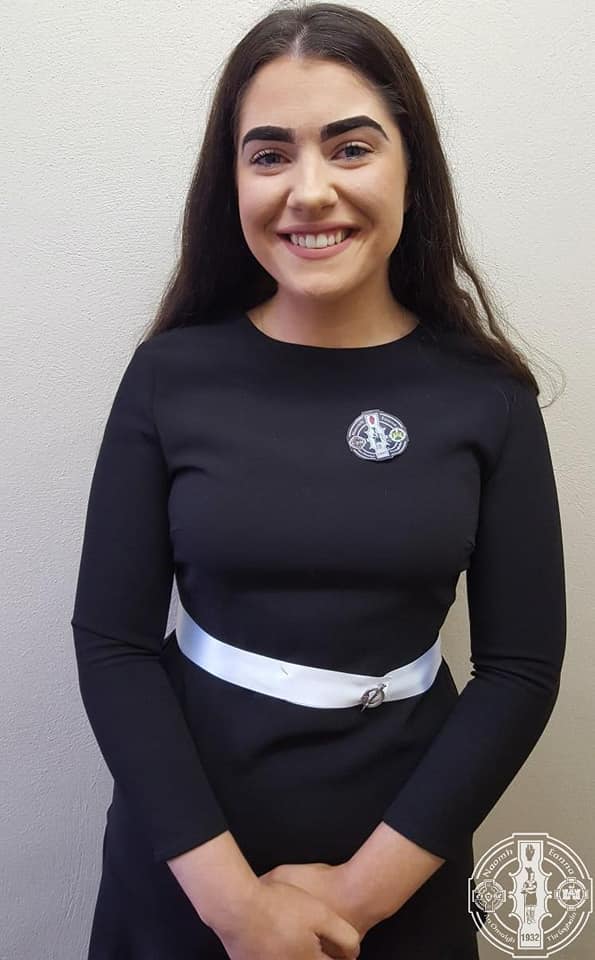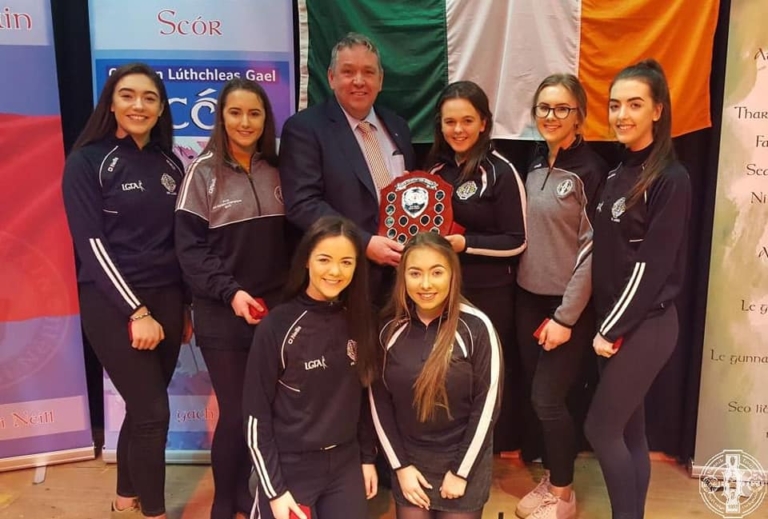 Comhghairdeas to our Set & Ceile Dance acts who took the 2019 Tyrone Title in Dun Uladh last Saturday, also well done to Aoiofe McGinn who represented our club in the Solo Singing section for Sundays Finals. 
U12 Success in North West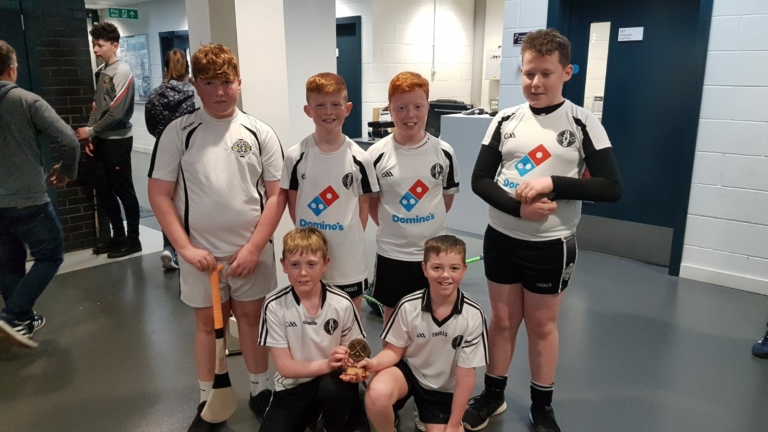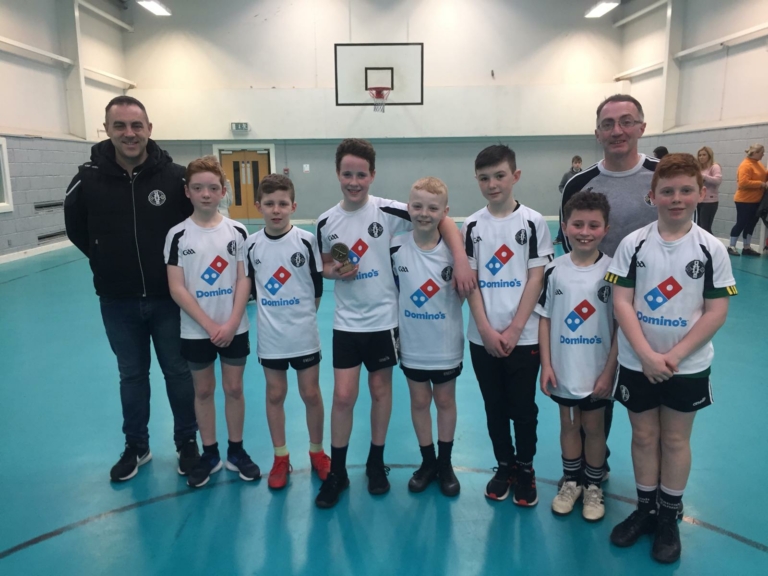 Comhghairdeas also goes to our U12 Hurlers. Last Sunday was Finals Day of the 2019 U12 North West Indoor Hurling League which had taken place every Sunday in February.
Our lads were playing in Division 2 and Division 4 and both teams finished the group stages in first place to qualify for the Cup Semi-finals this morning.
Division 2 at Dungiven – The Boys were narrowly beaten by Dungannon in the Semi-final of the Cup which moved them on to the Shield Final. Here they met Kevin Lynch's of Dungiven and after a tough game Omaghemerged victorious.
Division 4 at Dungannon – The Boys faced the home side in the Semi-final of the Cup. A great game finished with Omagh qualifying for the Cup Final against Fintona. Another super game, with very little between the teams, resulted in a well deserved victory for the Omagh Boys. This team was unbeaten in this competition.
Congratulations to the Lads and their Coaches.
Comhghairdeas Oisin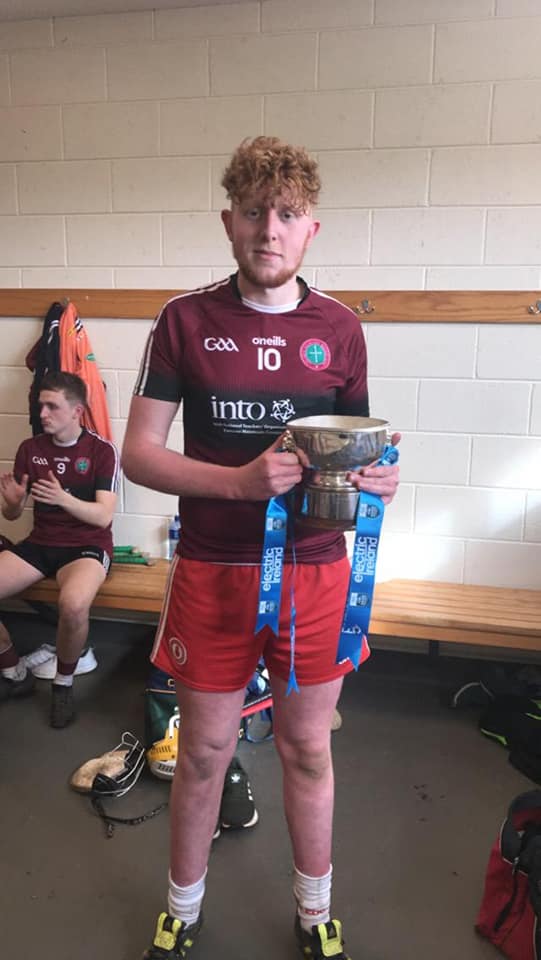 Comhghairdeas to Oisin MacSaliagh who along with his St Marys College team-mates, won the Fergal Maher Cup in Waterford last weekend, defeating Marino Institute 4-12 to 1-8.
Comhghairdeas Sared Heart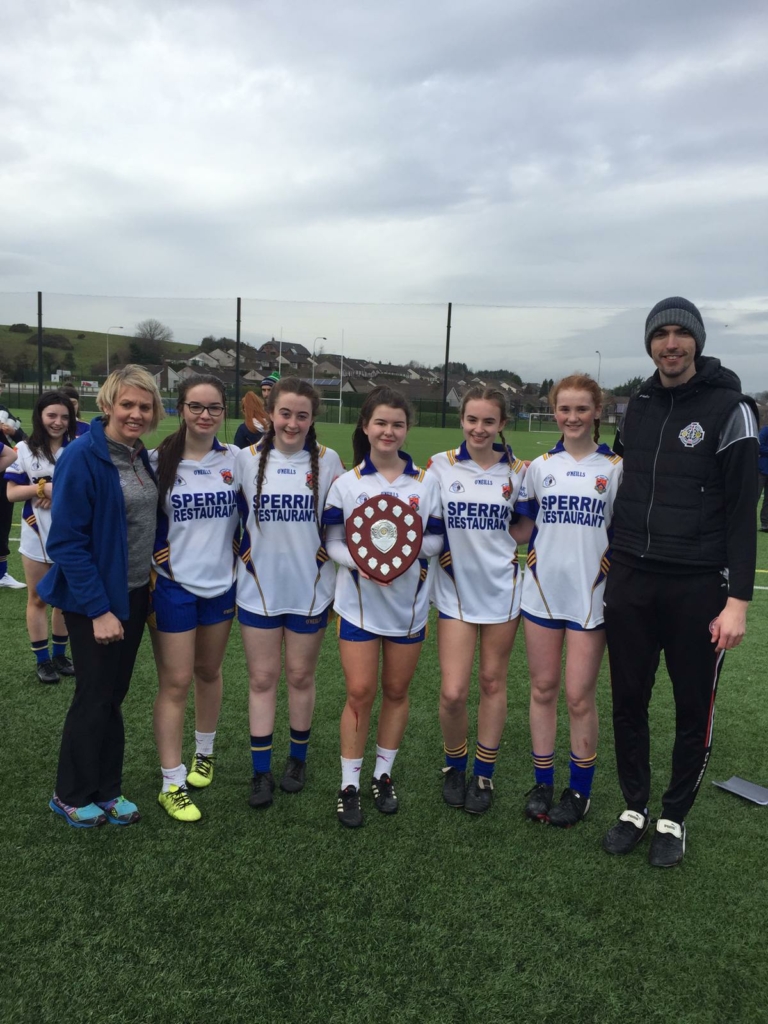 Comhghairdeas to club players Amy McAnulla, Neamh McCanny, Lucy McAnulla, Caoimhe McCrossan and Meave McSorley who where the Omagh contingent who represented Sacred Heart College last week winning the U16 Ulster Title in Girls Football.
U16 & U17 Hurling
Any boys interested in playing U16 Hurling in 2019 is encourage to attend a training session in St. Pats Park on Sunday 3rd March at 12.00.
This invite is also extended to boys from other Clubs which do not cater for Hurling and will not affect membership of your home club. For further information please contact Ciaran Keyes on 07984 184 307.
Lotto
Last Weeks Lotto results where 11-15-18-20-27, No Jackpot Winner, draw winners where, Anna Mullin, Rita McCrystal, Seamus Gallagher and Declan McGirr. Jackpot now stands at £2200.  This years Adult registration evening will take place on Friday 1st March 7.30pm-9.30pm at the Clubrooms.
Membership
This years Adult registration evening will take place on Friday 1st March 7.30pm-9.30pm at the Clubrooms. Any issues contact club registrar Mark Gormley.
Thank you
Thank you to the Club Volunteers who came out last weekend ahead of the NFL game of Tyrone and Monaghan. Your help as always is greatly appreciated.
Online Shop

Our Online Shop is now Live and Orders can now be placed for any Omagh St. Enda's Merchandise via our O'Neill Store.
There are a number of items left in the Shop at Healy Park, including Players Shorts.
Annual Presentation Night
This years Annual Presentation Night and Dinner will be on Saturday 9th March 2019 at St. Enda's Clubrooms, more detail to follow.
Save the Date
HOOLEY @ HEALY!!
Outdoor summer festival
Coming to Omagh St. Enda's GAA 23rd August 2019!!!
Line up will be announced soon!!!
This weeks Training Sessions
This weeks training sessions:
Monday 25th February:
U8 Football – 6.20pm-7.30pm – Healy Park Hall & 'Wall
Minor Ladies Foorball – 7.30pm – 8.30pm – Healy Park Hall
Tuesday 26th February:
U8 & U10 Girls Football – 6.30pm-7.30pm – Healy Park Hall
Wednesday 27th February:
U6 Hurling & Football – 6.30pm-7.30pm – Healy Park Hall
U10 Hurling – 6.30pm-7.30pm – Ballwall
U14 Boys Football – 7.30pm – 8.30pm – Healy Park Hall & B'Wall
U14 Hurling – 8.30pm – 9.30pm – Healy Park Hall & B'Wall
U18 Boys Football – 7.30pm-8.30pm – Youthsport
Thursday 28th February:
U14 Hurling – 7.30pm-8.30pm – Ballwall
Friday 1st March:
U18 Dirls Football – 4.00pm-6.00pm – St Pats Park
U6/U8/U10 Camogie – 6.30pm – 7.30pm – Healy Park Hall
Minor Ladies Football – 7.00pm – 8.00pm – Ballwall
U18 Boys Football – 8.00pm – 9.00pm – Youthsport
Saturday 2nd March:
Gaelic Start for P1 – 10.00am-11.15am – Healy Park Hall
Gaelic Academy for P2 – 10.00am-11.15am – Ball Wall
U10 Boys Football – 10.00am – 11.15am – St. Pat's Park
U14 Girls Football – 2.00pm-4.00pm – St. Pat's Park
Sunday 3rd March:
U14 Girls Football – 2.30pm – 4.00pm – St. Pat's Park
U14 Boys Football – 11.00am-2.00pm – CBS Grass Pitch
By Kristina
Tue 26th Feb