A unique sporting activity is coming to Omagh soon with Wheelchair Hurling set to make its debut at Healy Park.
On Wednesday 16th May the sports hall facilities of Omagh St. Enda's will host the first ever demonstration of the game which has been developing rapidly across Ireland and now has its own All-Ireland championship series.
Wheelchair Hurling was established in 1998 to allow those with disabilities to fully participate in GAA games and is part of Disability Sports NI and Ulster GAA's strategy to develop Gaelic games for everyone.
Participation is open to men and women of all ages – including those who are not wheelchair users. An injury classification list (see flyer at bottom) has been devised by Ulster GAA and anyone with these conditions are eligible to go on and play for Ulster.
Omagh St. Enda's revamped indoor facilities which has been branded a 'Hall for All' will now host a unique 'Sports for All' event and an invitation is extended to everyone in the wider Omagh community including neighbouring clubs to come along to the Wheelchair Hurling taster session on the 16th May from 7-8pm to experience the sport.
Everyone, regardless of ability, will get a chance to participate in an attempt to raise awareness of the sport and those with disabilities. Ulster GAA will provide up to 14 wheelchairs and equipment for all participants.
For more information on how to participate please contact Paul Callaghan (Ulster GAA Active Clubs Co-ordinator) on 0869066166 or Dominic McClements (Omagh St. Enda's) on 07725351643.
Check out the following video links promoting Wheelchair Hurling.
Ulster GAA wheelchair hurling initiative showcases that GAA is for everyone.http://goo.gl/X9JO6z

Posted by Ulster GAA on Wednesday, May 18, 2016
http://www.skysports.com/watch/video/9977672/wheelchair-hurling-on-the-rise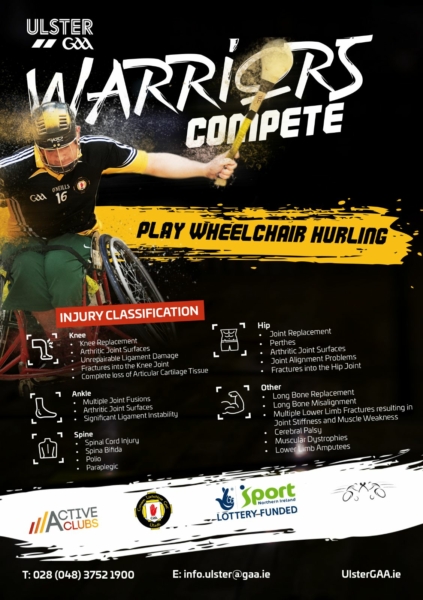 By Kristina
Sat 5th May