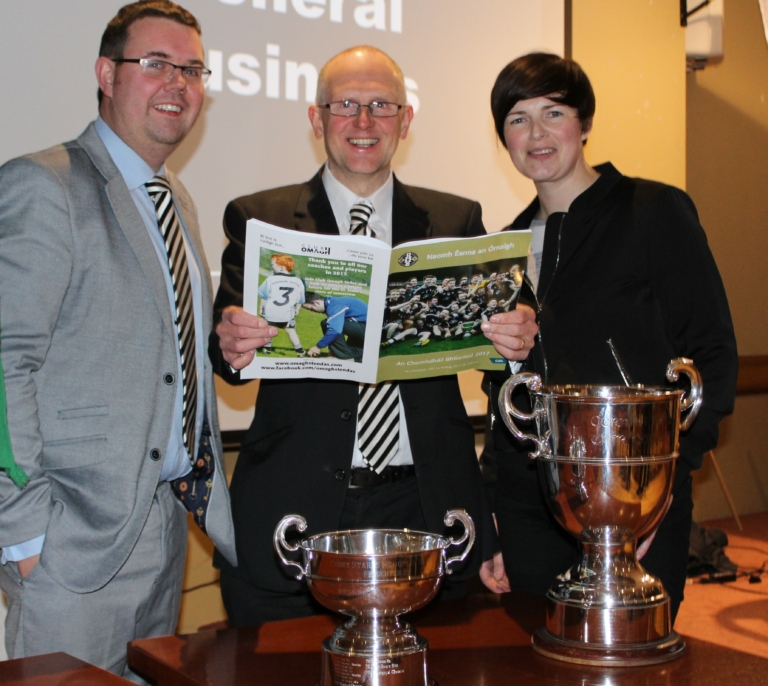 The Executive Committee for 2018. Secretary Conor Sally, Chairman Paul Breen and Treasurer Ann Cunningham
St. Enda's members met for the Annual General Meeting on Wednesday 13th December at a well attended meeting in the club rooms as they looked back on the 2017 season.
Club Secretary Conor Sally provided a very frank and honest report on all aspects of the club, detailing how well areas were performing and looking at aspects in which we could improve. Conor opened with thanks to the help, support and volunteerism that Omagh St. Enda's has received over the past year. He described his overarching emotion of his first year in post as 'Pride', pride in the high's that we achieved during the year but also pride in how the club reacted in adversity and how we can "come together as one big club both in times of happiness and despair".
Outgoing Club Treasurer Paul Meldrum delivered a detailed financial report for the year, a report that any outgoing Club Treasurer would be proud to deliver, which has left the St. Enda's on a sound financial footing for the years ahead.
Club Chairman Paul Breen spoke of his delight of the many successes the club had during the year with the standout moments being the Senior and Reserve Footballers winning the Championship double and the Scór team winning the Rince Seit All Ireland title.
Paul also spoke very eloquently of the passing of club men Charlie O'Donnell and Devlin who passing away during the year.
Prior to the election of officers, Club Chairman Paul Breen thanked all outgoing officers for all their hard work during the year. He has a warm mention of his fellow Executive Committee member Club Treasurer Paul Meldrum for his hard work during his tenure.  In his praise Paul said that "on behalf of the club and myself, can I thank you for the work that you've done over the years and I hope that you won't be going too far away as I'm sure we'll find something for you to do".
A number of club officials were returned unopposed but there are a number of new faces on the Omagh committee for 2017 with Ann Cunningham as Treasurer, Declan McGirr as Assistant Treasurer and Jeremy Devlin is welcomed back as Lotto Co-ordinator.
*A copy of the comprehensive report is available to any paid up club member. Anyone who would like to receive a pdf version of the report should send an email request to – pro.omaghstendas.omagh.tyrone@gaa.ie
The 2018 Omagh Committee is:
Chairman – Paul Breen
Secretary – Conor Sally,
Treasurer – Ann Cunningham,
Registrar – Vicky O'Hagan & Marian Doody,
Vice Chairman – Eamonn McMullan,
Assistant Secretary – Mark Gormley,
Assistant Treasurer – Declan McGirr,
Children's Officer – Tracy Monaghan & Paul Groogan,
Health & Well Being Officer – Tracy Monaghan,
Property / Maintenance Officer – John McElholm,
PRO – Barry McAleer,
Senior Hurling Players Representative – Damien Woodhead
Senior Football Officers – Jason McAnulla and Conor Hannigan,
Senior Hurling Officer – Gerard Fox,
Ladies Football – Paddy Hunter,
Bingo Co-ordinator – Kieran Young,
Lotto Co-ordinator – Jeremy Devlin
County Committee Representative – Seamus Hannigan,
Youth Representative – Ciaran McDaid,
Development Officer – to be appointed at committee,
Coaching Officer – Joe McMahon.