The Executive Committee and club members wish to extend their deepest sympathy to the family of our esteemed friend and club stalwart Paddy Devlin who sadly passed away on Sunday. Sympathy is also extended to the wider Devlin family circle. Funeral Tuesday following 10.00am Requiem Mass in the Sacred Heart Church with interment in Drumragh. Ar dheis Dé go raibh a anam.
Paddy was one of the club's most distinguished and popular members and played a major role in virtually ever facet of club activities since arriving in Omagh from his native Armagh in the early 1950s.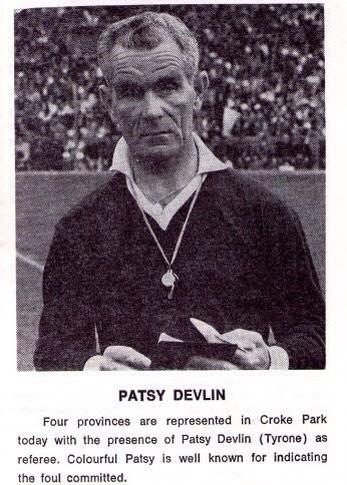 He was perhaps best known for his talents as a referee and took charge of scores of games throughout his career from underage right up to All-Ireland level. The highlight of Paddy's career came in 1972 when he took charge of the All-Ireland senior final between Kerry and Offaly and was back in headquarters again two years later when he officiated at the Dublin v Galway decider. That was a uniquely proud occasion for the club as not only did Paddy have the distinction of refereeing the game, but four of his club colleagues, Brian McGuigan, Harry Rodgers, Peter Mullin and John Campbell were also umpires in that game.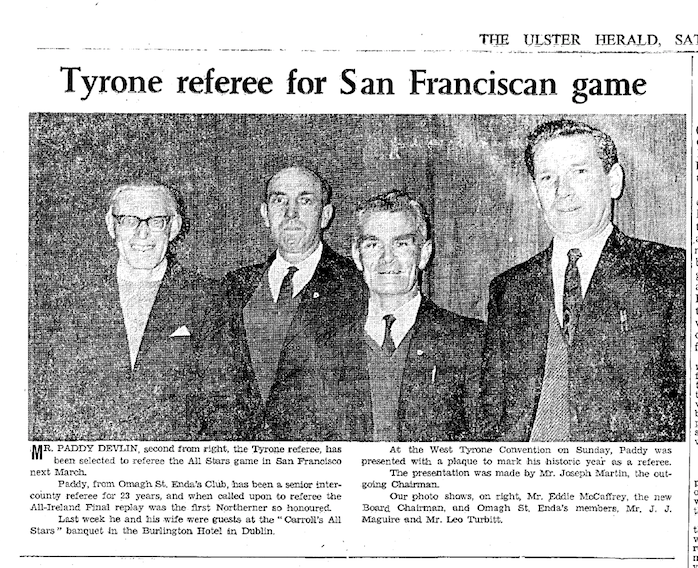 Paddy was also rewarded for his refereeing expertise when he was chosen to travel to San Francisco in 1973 to take charge of the exhibition game between Offaly and the All-Stars. But no game was too big or too small for Paddy and he was at his most happiest when he was asked to referee even the smallest youth games throughout Tyrone.
Paddy was also a uniquely talented administrator in the Board room and for many years he held key positions on the West Tyrone Minor Board and helped to shape the development of youth football in the county.
Having served on various St. Enda's sub committees for many years including the fledgling Park Committee which was appointed to oversee the early development of what was to become Healy Park, Paddy was eventually elected as Club chairman in 1959 and then Treasurer in 1962.
Paddy also become a member of that select club of St. Enda's men to hold a Tyrone Senior Championship medal when he got his hands on the O'Neill Cup in 1957 as a member of the panel that defeated Derrylaughan 1-7 to 0-3 in the county final. He was also a member of the backroom team that saw the team win the 1963 final.
Paddy Devlin was a unique character and was one of the most popular men ever to grace the club. He never forgot his Armagh roots however, but as an adopted St. Enda's and Tyrone man, Paddy left an indelible mark on anyone who had the privilege of knowing him. In later years, Paddy always made great efforts to attend various youth training activities in the club and nothing made him more prouder than seeing scores of young boys and girls taking part in games on a weekly basis.
By Kristina
Sun 29th Oct