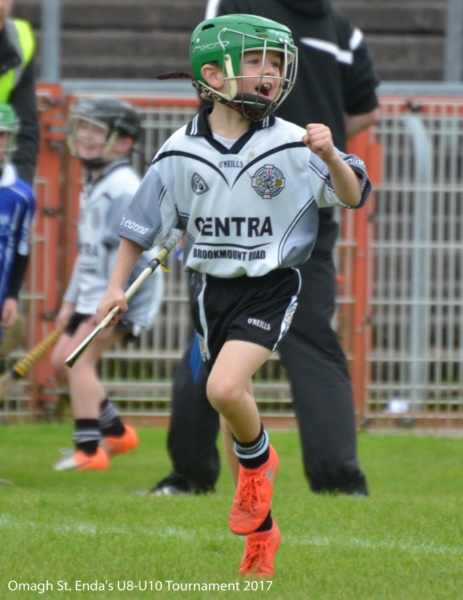 TWENTY clubs from 8 different Ulster counties descended on Omagh on Saturday morning for our first ever provincial U8 and U10 hurling tournament.
The event proved to be a resounding success with all players enjoying a busy morning of hurling in Healy Park, St. Patrick's Park and the Brothers Park.
Amongst the many people who came to support the tournament was National Hurling Development Manager Martin Fogarty who made the journey from Kilkenny to witness the event.
There was a spread of winners from Down, Derry, Donegal and Tyrone and it was particularly sweet for our own club to claim two trophies in the U10 Division 2 Plate and U8 Plate with our second U10 team desperately unlucky to lose the Division 2 Cup final with Sean MacCumhaills of Ballybofey taking the title after extra time.
Full results from our historic event are as follows:
U10 Division 1 Cup – Winners: Bredagh (Down); Runners-up: Na Magha (Derry)
U10 Division 1 Shield – Winners: Ballinascreen (Derry); Runners-up: Swatragh (Derry)
U10 Division 1 Plate – Winners: Eoghan Ruadh, Dungannon (Tyrone); Runners-up: Bríd Og, Belfast (Antrim)
U10 Division 2 Cup – Winners: Sean MacCumhaills, Ballybofey (Donegal); Runners-up: Omagh St. Enda's (Tyrone)
U10 Division 2 Shield – Winners: Bredagh (Down); Runners-up – Na Magha (Derry)
U10 Division 2 Plate – Winners: Omagh St. Enda's; Runners-up: Cappagh
U8 Cup – Winners: Dhuiche Neill (Tyrone); Runners-up: Enniskillen Gaels (Fermanagh)
U8 Plate – Winners: Omagh St. Enda's (Tyrone); Runners-up: Four Masters (Donegal)
See full range of photographs from the tournament on our Photo Gallery
By Kristina
Sun 24th Sep