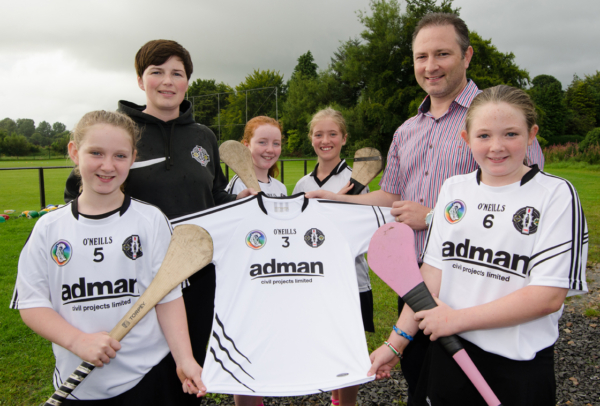 The game of camogie which has enjoyed a period of reviival in Omagh in 2016, received another boost this week when local company Adman Civil Projects Limited sponsored the Omagh St. Enda's Post-Primary team.
Pictured presenting a new set of jersies to St. Enda's coach Ann Cunningham and players Clare O'Brien, Eva Ní Doibhlin, Aoibheann Gallagher and Shanua McCrory, is Adrian McCrory, Director of Adman which is based at 4 Bankmore Way East, Doogary, Omagh. The Omagh camogie team took part in the Tyrone Post Primary Schools league for the first time this year and recently took part in a 'Caman to Croker' blitz in Croke Park.
Any girl from the Omagh district who would like to play camogie is welcome to attend weekly training in St. Patrick's Park, Omagh, each Friday from 6.30pm. Coaching is available for all participants from P1 level onwards. Equipment provided.
Adman Civil Projects Ltd is based at 4 Bankmore Way East, Doogary, Omagh and has been operating since 2007. The company specialises in the construction of electricial infrastrusture, utility and renewable energy sectors.  Tel 028 8224 2166
By Kristina
Fri 19th Aug