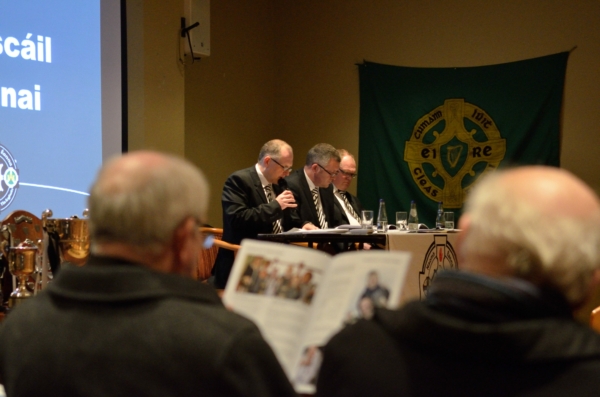 St. Enda's members met for their Annual General Meeting last week (Tuesday 8th Dec) when they reflected on a promising 2015 season which delivered five youth football and hurling titles.
While the club basked in senior glory the previous year, this time it was the youth of the club which took the limelight including a Grade 2 and Grade 4 U16 League and Championship Double for both the boys and girls football respectively, while it was the U14 boys who retained the Tyrone Féile hurling Shield title. On a cultural front our Scór na nÓg and Scór Sinsear teams won a total of eight County titles and two Ulster titles.
Club chairman John McElholm paid tribute to the players, management, sponsors and supporters for their role in securing success for the club last year.
Club Secretary Paul Breen Paid tribute to our club Volunteers for the 2015 season by saying, "We are indebted as always to our many Volunteers who Continue to Contribute Tirelessly to the running of the club. On behalf of the Executive Committee and the wider membership of the club, I extend a huge thank you." He continued by adding "To all our managers, mentors, parents, sponsors, friends of the club, players young and old and anyone who helped in anyway, a huge thank you to you all."
Prior to the election of officers, John also paid tribute to some of the outgoing committee who were not standing for election in 2016, namely Children Officer Peter Clarke, PRO James Mullan, Bingo Co-Ordinator Andy McAleer, Property Officer Michael McCarney and Coaching Officer Liam Grugan.
Members were also presented with a comprehensive 44-page report* by Secretary Paul Breen which catalogued all the club's activities throughout the year. He stated, "following the '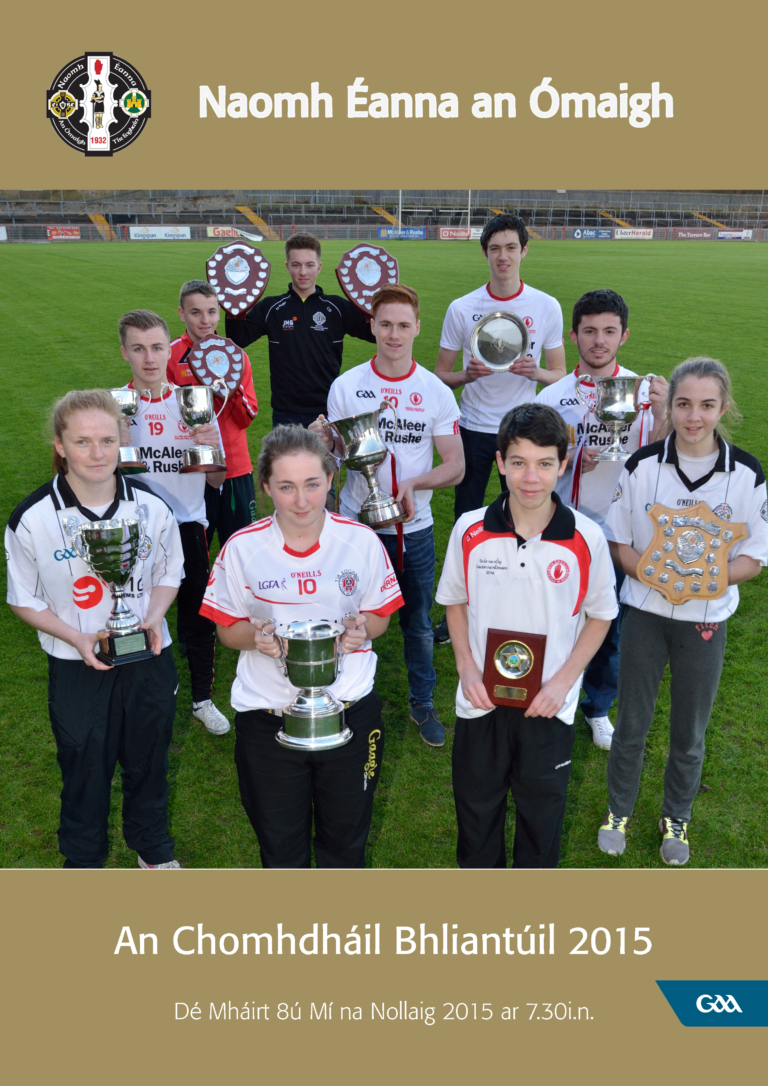 dream year' of 2014 expectations were high that 2015 would see the same success as the previous year and possibly go one step further and claim the clubs first Ulster Senior title. But as we gather here tonight and reflect on 2015 we realize how exceptional 2014 actually was and that success does not come easy."
A detailed finance report for the year was delivered by Treasurer Paul Meldrum who urged members to continue their great support for fund raising events throughout the year as the financial demands for running a complex club structure like St. Enda's was significant.
A number of club officials were returned unopposed but there are a number of new faces on the Omagh committee for 2016 with Marian Doody joining Vicky O'Hagan in the Registrar Role, Tracey Monaghan and Paul Grugan as Chlidren Officers, Barry McAleer as PRO, Bingo Coordinators Kieran Young and Joe Mulryan, Property officer Martin Lynch and  Lastly Tony McGinn and Joe McMahon as the new Coaching Officers.
*Any paid up club member who would like to receive a pdf version of the report should send an email request to – pro.omaghstendas.omagh.tyrone@gaa.ie
The 2016 Omagh Committee is:
Chairman – John McElholm,
Secretary – Paul Breen,
Treasurer – Paul Meldrum,
Registrar – Vicky O'Hagan & Marian Doody,
Vice Chairman – Eamonn McMullan,
Assistant Secretary – Conor Sally,
Assistant Treasurer – Kevin Mullan,
Children's Officer – Tracy Monaghan & Paul Groogan,
Health & Well Being Officer – Tracy Monaghan,
Property / Maintenance Officer – Martin Lynch,
PRO – Barry McAleer,
Players Representative – Jason McAnulla,
Cultural officer –  David Tierney,
Senior Football Officers – Vinny McCullagh & Damian McSorley,
Ladies Football – Paddy Hunter,
Bingo Co-ordinators – Kieran Young & Joe Mulryan,
County Committee Representative – Seamus Hannigan,
Youth Representative – Ciaran McDaid,
Development Officer – Martin Lynch,
Coaching Officers –  Tony McGinn & Joe McMahon.
By Kristina
Wed 16th Dec