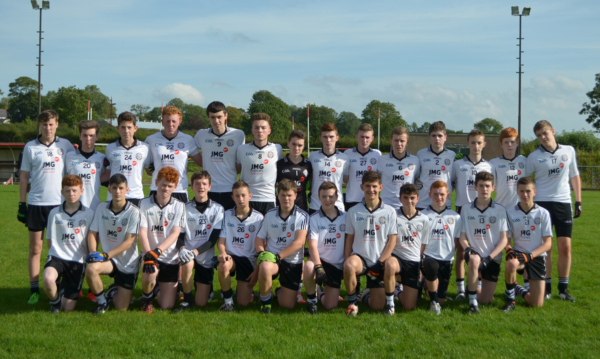 St. Enda's 3-7 Rock 1-7.
A strong and determined second half performance from our U16 boys saw the lads drive past Rock to secure a place in the Championship final at a sunny Beragh yesterday afternoon. The memories of a lost final as u14's at the same venue appeared to be weighing on the minds of a few of the boys as a very flat and nervous start saw a fired up Rock hit the net early on to move into a 1-1 to 0-0 lead.
A couple of Aidan Clarke frees got Omagh off the mark before a collector's item goal from Cormac Corry with a stupendous dummy thrown in for good measure looked to have the St Enda's boys back on track. However Rock hit back with a couple of frees to leave themselves 3 ahead with half time approaching. As the game became increasingly physical the Omagh boys still looked somewhat lethargic however a brilliant off the ball run by Ciarán Lagan fresh from collecting an All Ireland hurling medal the day previous got the pass it deserved from Mark McKenna and the ball ended in the net to level things up and at the short whistle that's how it remained.
Half time: Omagh 2-3 Rock 1-6
Having played fairly poorly by their own standards being level at half time surely boosted the Omagh boy's confidence and a calming and reassuring half time talk by the management team saw a different team emerge for the second half. Although far from their fluent best Cain Bradley, Damian McGuigan and Ben Groogan raised the performance levels and a defence excellently marshalled by Emmett McArdle effectively shut up shop. The Omagh boys got their noses in front for the first time with a booming effort followed by two more long distance scores all from Cain Bradley and suddenly there was only one team in it.
With the Omagh tails up, panic set in amongst the Rock team and with this their discipline started to falter. Ben Groogan was subjected to some serious off the ball treatment which went unpunished by the officials. However, Ben took matters into his own hands in the proper manner, going on a mazy run and finishing with a low shot to the corner of the net and the game was effectively up.
Rock registered their only score of the second half before Mark McKenna restored Omagh's 6 point lead. A couple of frees dropped into the edge of the square were comfortably dealt with and at the final whistle the Omagh boys were able to celebrate along with their supporters making the championship final to go along with the league final.