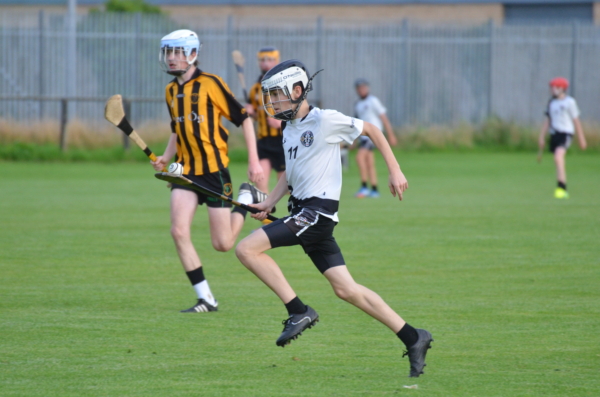 After their heroics of two weeks ago, St. Enda's U14 hurlers failed to reach the same heights second time around when they lost to Eire Og of Carrickmore in Sunday's championship quarter-final replay.
The drawn game in St. Patrick 's Park produced 16 goals, and Sunday's replay produced 11, but unfortunately the game never reached the same level of excitement this time around with St. Enda's short three key players through injury.
The home team hit a purple patch in the first half to fire home seven of their eight goals to lead at half-time by 7-2 to 1-6. However, after some half time reorganisation, the Omagh boys produced a spirited second half display ensuring a much more evenly contested final 30 minutes to marginally outscore their victors but it was still not enough to overturn the significant first half deficit. Final score: Eire Og 8-5, St. Enda's 3-7.
Drawn game report (played on 19th August) –
An Ómaigh 9-10 (37) Éire Óg 7-16 (37)
A truly fantastic game of hurling ended all square after a see-saw battle at St Patrick's Park. A brisk start by the Carmen lads saw them move into a 3 point lead which was quickly wiped out by a goal for the Omagh boys. This gave the home team great confidence and they moved into a 3-3 to 1-6 lead 10 minutes before the break.
However the Eire Og lads fought back with a couple of goals of their own and the half time whistle sounded with the score
Omagh 4-5 Éire Óg 4-8
With first attack of the second half Eire Og found the net again and looked set to take control. The teams swapped a couple of points before the Omagh boys struck for two goals inside 2 minutes and moved in front by 2 with a Tom McClement's point. Éire Óg struck back immediately to move back into the lead and with 15 minutes to play 4 points separated the teams. Omagh then struck for two more goals including a stunning effort by Tom McClement's that would have graced any field.
Again the Éire Og lads fought back to level the game. With 3 minutes to go, great battling by Fionnbharr Taggart saw him fouled leaving an easy free for Jordan O'Reilly to put Omagh a point ahead. The Omagh lads then staged a brilliant rearguard action before unfortunately giving away a free in the scoring zone which was converted before the final whistle sounded.
Some absolutely brilliant performances throughout the field including goalkeeper Jakub Krawczyk who made a number of excellent saves and Ben McFarland who scored a hat trick of goals.
Omagh scorers
Tom McClements 3-3
Ben McFarland 3-0
Jordan O'Reilly 1-6
Enda Donnelly 1-0
Micháel Sally 1-0
Fionnbharr Taggart 0-1
By Kristina
Mon 31st Aug