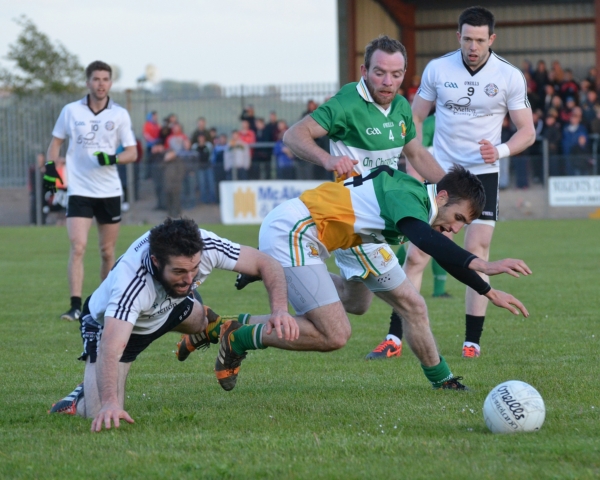 Congratulations to St. Enda's seniors who scored an emphatic 0-10 to 0-3 win over Carrickmore in the opening round of the 2015 championship at a bitterly cold Pomeroy on Friday night.
The game, which was a re-run of last year's county final, proved to be a dogged affair with the gale-force wind sweeping across the Pomeroy pitch making conditions exceptionally difficult for both sides.
Playing with what limited assistance the gale did provide in the first half, the St. Enda's men opened up a 0-6 to 0-2 lead at half-time but the scores were difficult to etch out. When they eventually managed to master the wind, Ronan O'Neill landed three points from frees while Conor Clarke (1) and Jason McAnulla (2) brilliantly found the target from play.
Although Carrickmore had wind support in the second half, they were held to just one point for the remainder of the game as they struggled to make a breakthrough to find the target.
The Carmen side were the first to score after the break but the 2014 county champions tightened their grip on the game and over the course of the second half, a series of well worked moves involving great patience, resulted in four crucial points, three from Ronan O'Neill and one from Jason McAnulla. Carmen's game unravelled further as they were reduced to 13 men over the final 30 mins.
St. Enda's scorers – Ronan O'Neil (0-6, 4 frees), Jason McAnulla (0-3), Conor Clarke (0-1)
Further photos on our facebook photo gallery – click here
By Kristina
Sat 6th Jun