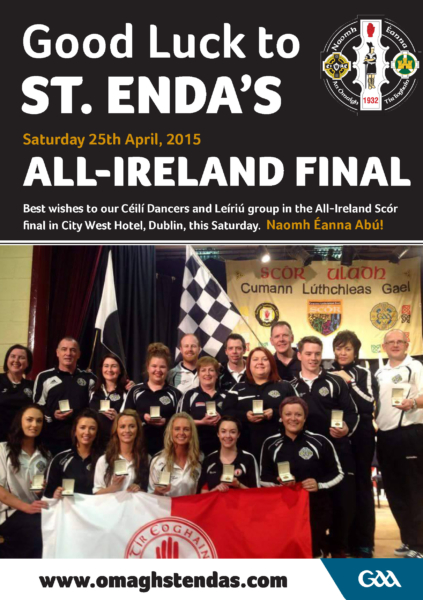 Over 100 supporters making the journey to Dublin
GOOD luck to the St. Enda's Ceili Dancers and Léiríu Group and their mentors in Saturday's All-Ireland Scór finals in the City West Hotel, Dublin.
Over 100 supporters are expected to make the journey to the capital to cheer on our teams.
Our dancers are seeking an incredible 11th All-Ireland title for the club while our Léiríu team will be hoping to bring home a first. Good luck all.
Ceili dancers – David Tierney, Paul Breen, Damien Friel, Faelan Duffy, Michelle Mullan, Leanne McCullagh, Lauren Murphy, Courtney McAskie.
Léiríu – Peter Clarke, Kenny Clarke, Emma McFarland, Joanne McDaid, Caroline Hannigan, Edel McGirr, Jade Campbell and Niamh Simmonds
By Kristina
Fri 24th Apr